Welcome to the Shovel Knight: Specter of Torment Press page. More Shovel Knight series games:
Shovel of Hope, Plague of Shadows, King of Cards, Showdown, Treasure Trove
Fact Sheet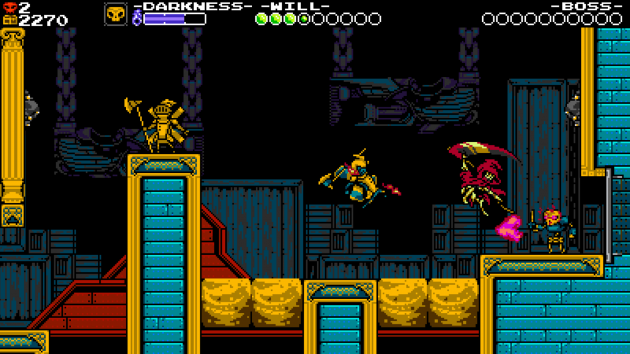 Developer: Yacht Club Games; Based in Marina del Rey, California
Platforms: Nintendo Wii U, Nintendo 3DS,  Nintendo Switch, Sony PS3, Sony PS4, Sony Vita, Xbox One, PC, Mac, Linux, Amazon FireTV
Release Date: March 3rd, 2017 (Nintendo Switch) April, 2017 (Everywhere)
Price: USD 9.99 or available as part of Shovel Knight: Treasure Trove
Languages: English, French, Italian, German, Spanish, Portuguese-Brazil, Russian, Japanese, Korean, Simplified Chinese, Traditional Chinese
ESRB: E for everyone, USK 6+, PEGI 7, OFLC PG
Press Contact:

[email protected]

Social: Kickstarter, Twitter, Facebook, Twitch, YouTube
Instruction Manual: Digital Manual for Web
Description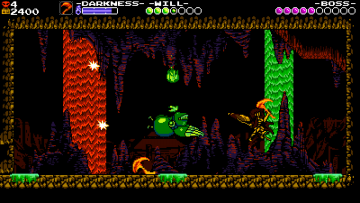 Shovel Knight: Specter of Torment is the action-packed prequel to Shovel Knight! Take control of Specter Knight, servant to the Enchantress, in a quest to recruit a cadre of knights and create the Order of No Quarter. With his scythe and preternatural agility at the ready, he can glide across the ground, clamber up walls, and command an arsenal of curious weapons.
If he carries out his duties, Specter Knight may have a chance at regaining his lost humanity and breaking his chains of servitude. But what cruel tricks might the Enchantress have up her sleeve? Experience perfect platforming, world-class visuals, all new stage designs, new music, new bosses, and even meet a friend or two in Shovel Knight: Specter of Torment!
Features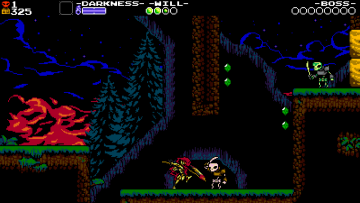 Climb walls, leap over gaps, and dispatch enemies with the Dash Slash. Specter Knight's playstyle brings motion and action to the forefront!
Collect and upgrade curios to unleash all new special attacks.
Test your scythe skills with Feats and Challenge Stages featuring Boss rematches, platforming challenges, and more!
Yacht Club Game's beautifully authentic style bridges the gap between yesterday and today. Design, art, and audio hearken back to the days of 8-bit.
Awesome soundtrack by Jake "Virt" Kaufman!
Balanced gameplay is a warm welcome to newcomers, and an old embrace for experts.
A somber tale told with a light touch to narrative with humor, levity, and heart.
Crazy bosses and lovable characters.
Take on a new challenge and uncover all of the world's secrets with New Game+!
For platform specific features, please refer to Shovel Knight: Treasure Trove's press page.
Videos
Download the release trailer here!
Screenshots
Download all of the screenshots as a .zip file! The zip contains many more screenshots than is shown on this page.
Key Art and Illustrations
Download all the key art as a .zip file! The zip contains much more art than is shown on the page.
Logos / Icons
Download all the logos/icons as a .zip file! There are additional formats for the logos inside of this file.
Sprites
Download all the sprites as a .zip file! The zip file contains more sprites than what is shown here
Portraits
Download all of these portraits at once using this .zip file!
Music
The Specter of Torment OST brings new stage themes into the mix for all of your favorite locales– in addition to the all new somber sounds of Specter Knight's very own quest! The soundtrack is available under a "Name Your Price" model with no minimum set. Click the album cover below to see more!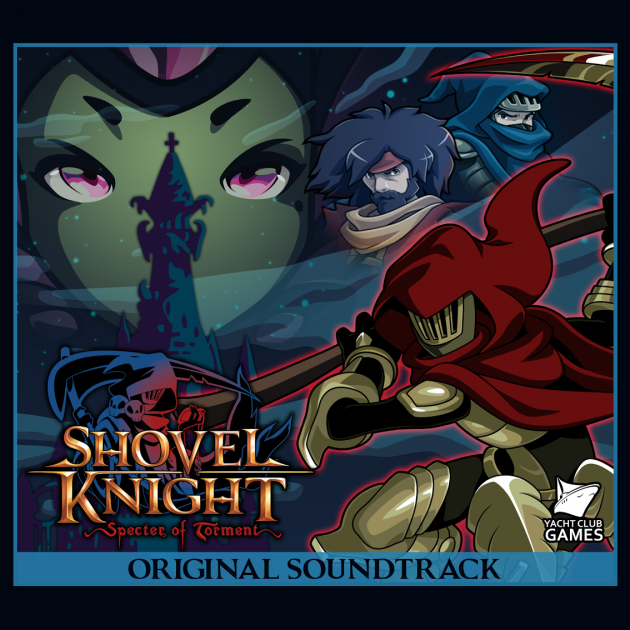 Other Cool Stuff
Specter of Torment Level Design Deep Dive 2 3 4 5
Specter Knight Mobility Design