Hey art connoisseurs! It's art book info time!!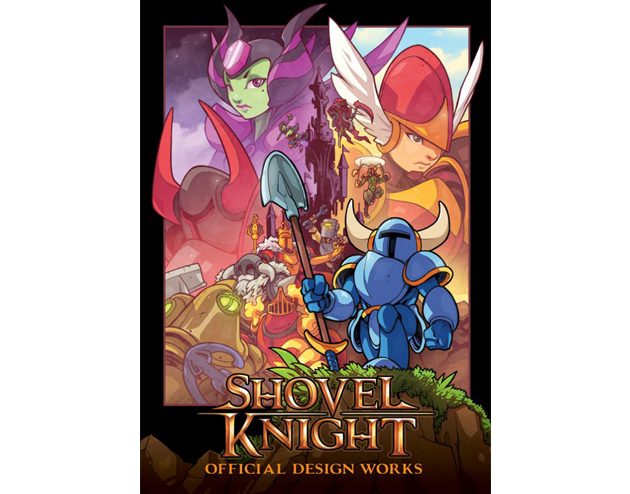 We've had the ultimate pleasure of working an an official Shovel Knight art book with UDON Entertainment, best-known as a publisher of original and translated art books, graphic novels, and manga! Some of their best-known projects are from video game franchises, including Street Fighter, Okami, Mega Man, Dark Souls, Persona, Bayonetta, Valkyria Chronicles, Sonic the Hedgehog, and many more. We have spent countless hours poring over their books, so needless to say, we are pumped to be working with them!!
UDON has worked very closely with us to ensure that Shovel Knight: Official Design Works is every bit the definitive Shovel Knight art book that fans deserve. Within its pages you'll find character art, developer commentary, rough illustrations and concept art, background development images, comprehensive sprite sheets, full-page promotional illustrations, and more – including an exclusive interview with the team! It was a ton of fun to recall our processes and problems with crafting each of the characters and worlds in Shovel Knight, and we can't wait to share it all with you!
Shovel Knight: Official Design Works will be available for purchase at finer comic book stores, book retailers, and various online retailers in August 2017. Media inquiries and/or requests for review copies should be directed to Jenny Myung at [email protected]nt.com.
SHOVEL KNIGHT: OFFICIAL DESIGN WORKS
ISBN: 978-1772940046
DETAILS: 184pg, 8.2×11.8″, Full Color, Softcover
MSRP: $39.99 USD
STATUS: Available August 2017
You can pre-order your copy of the book now!
Specter of Torment – Now Slicing Near You!
Specter Knight is creeping his way to a new platform is out almost every week now! We hope you've had the chance to try out the Shovel Knight:Specter of Torment campaign- we think it's our finest work yet!! For more information on the release, including the latest release dates, check out our Specter of Torment Release Info page. Sorry for the wait! We love you!