Welcome back, Shovel Team! Did you miss us? We missed you! We've remained hidden away, hard at work on new Stretch Goal Updates and more but figured this would be a great time to check in on where we're at! Lot's of animated images ahead!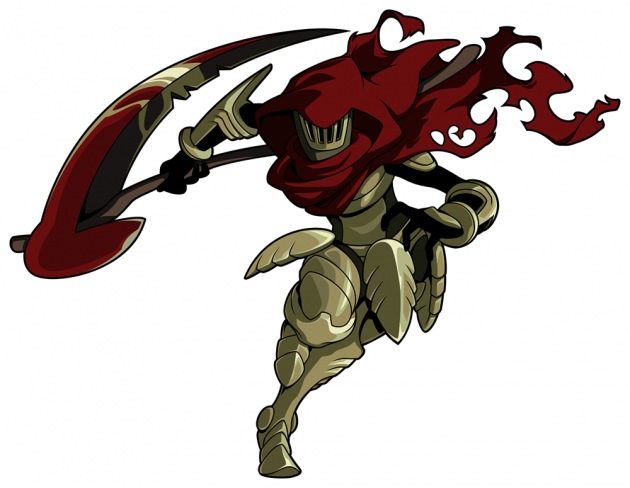 A Spectral Campaign Arises!
Set aside your shovel and put those potions away — a new campaign is on the way! Starring no other than the shadowy Specter Knight!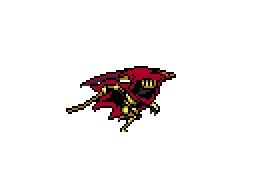 Look at him go! You might remember him as a hovering apparitional adversary, but he now runs and jumps with the best of them. With his signature scythe in tow, he's one of the larger playable characters too! Let's take a look at some of his moves!
Slash!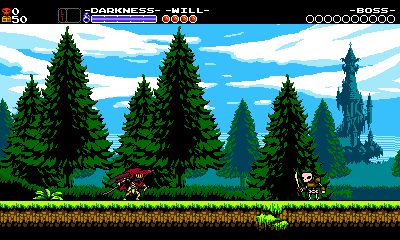 Press Attack to unleash a frightfully fast slash! Great for getting a hit in or striking an enemy before they can strike you!
Dash Slash!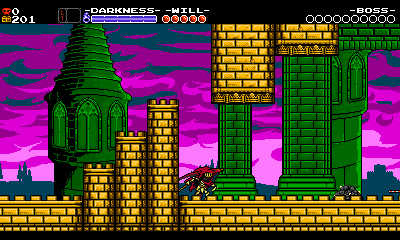 The Dash Slash is one of Specter Knight's most important skills for both combat and mobility! Jump into the air, line up your strike, and press Attack to make a diving slash toward the enemy!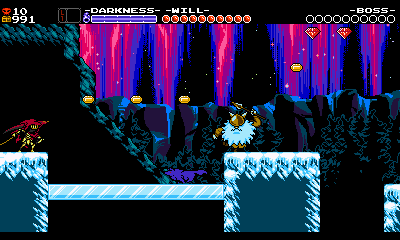 Facing a tough foe? Line up repeated strikes and cut them down to size!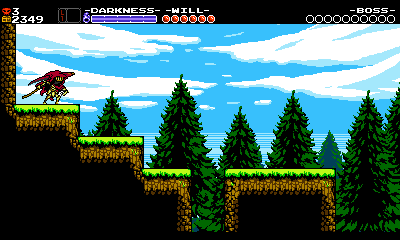 The Dash Slash can dive downwards or rise upwards! Initiate the attack while above an enemy to slash downwards, or start the attack from below to cut upwards! Master this technique to reach new heights!
Wall Climb!
Specter Knight makes up for his low jump height with peerless climbing abilities! If there's a wall– there's a way!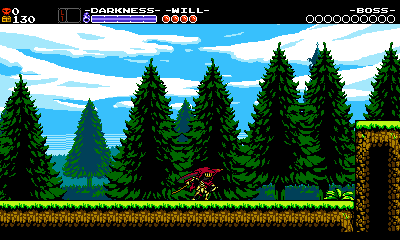 Move into almost any wall or ledge and Specter Knight will begin climbing. Once he reaches the top he'll leap up to the higher ground. Specter Knight can only climb a set distance before falling or jumping away though so be sure to plan your path accordingly!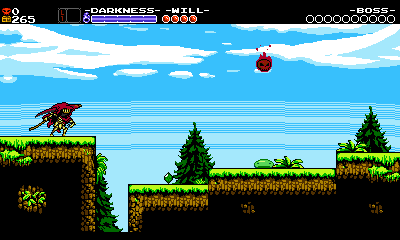 Combine Climb and well-timed Dash Slashes to traverse the terrain with ease!
I'm Ready! When Can I Slice It Up?
That's a good question! When Shovel Knight originally kicked off we focused entirely on making the original Shovel Knight campaign the absolute best! It's the game we originally pitched and knew we wanted to spend all of our efforts and energy polishing the core campaign. After release, we gathered everyone's impressions before cracking open the game once more to brew up Plague of Shadows! Plague Knight was a chance to build upon and deliver all new story, characters, and playstyle. We made many iterations (threw out a lot of ideas), and learned some great lessons on how best to extend and change up the existing Shovel Knight game world.
With that experience fresh in our minds, the team here is now working on all remaining campaigns and updates at once! That means Specter Knight, King Knight, Body Swap, and Battle Mode (for PC and consoles). That's a lot more game — and it should arrive sooner than the wait between Shovel Knight and Plague Knight. Creating these updates simultaneously will allow us to plan more cohesively. How levels change between the two characters, how much time is needed for new mechanics/systems, stories interweaving, and so on. Once we're nearing completion on one set of updates, we'll be switching our focus to a single campaign to make sure it's polished for release. Then we'll be doing the same by switching to the next campaign! Here are some answers to the most frequent questions:
We're working on two new campaigns: Specter Knight and King Knight.

Campaigns will

not

be releasing at the same time. Specter Knight will be released first!

No estimated release date for any Update quite yet.

Similar to our last update, we'll probably

go overboard

too. Hey! Maybe that's why we're called Yacht Club Games!

New campaigns will come with new Feats and Challenges for the new campaign character!

We're also working on two new modes: Body Swap and Battle Mode!

Just like Plague of Shadows releasing with Challenge Mode, we're planning to release

one of these new modes alongside each campaign

.

Battle Mode is being designed as a single screen, multiple controller, multiplayer mode and is currently not planned to arrive on handheld versions of the game. We'll be sure to announce if there are any changes on that front.

Much like Plague of Shadows, all of the announced upcoming Shovel Knight content will be free on ALL platforms! For disc/cart and digital versions!
Groundbreaking News – Physical Vita Version With Fangamer!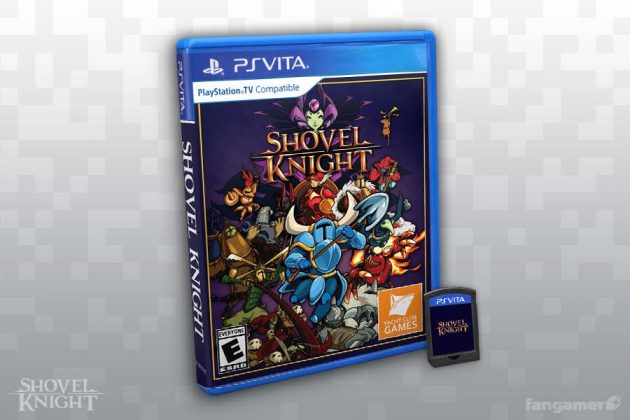 Months in the making! You asked for it! You waited patiently for it! Now it can be yours! We're happy to announce a limited print of Shovel Knight on Vita! Display it proudly on your shelf or take this convenient cart with you and enjoy shovelry on the go! We want to make sure there's enough in this run for all who are interested — so it's important to pre-order on Fangamer to secure your copy! Some finer details:
Shovel Knight
Platform: PlayStation®Vita
Price: $24.99
Ship Date: Early October
Includes a lovingly crafted, full color, 42 page instruction manual!

Game version 2.0 just like the original 2015 retail release. Complete with the Plague of Shadows campaign, Challenge Mode, and a very special guest: Kratos from God of War!

This version will receive free upcoming updates just like the digital PS Vita version. Including Specter Knight's campaign, King Knight's campaign, and Body Swap Mode.

Shares the same trophy/game data as the digital PS Vita release.

Transfer your save file from other Sony platforms using the in-game Cross-Save menu!

Region-free so you can enjoy Shovel Knight no matter where you are!
A big thank you to Vita and Shovel Knight fans everywhere for letting us know this is something you wanted to see happen! And, of course, for sticking with us while we figured out how to make it happen!
Onward!
That's just a little bit of what we've been up to over here! Make sure to keep checking back on our site here, Twitter, and Facebook if you're interested in even more info! Until then, here's a roundup of some cool articles you might have missed:
King Knight Mobility Preview gif!
Feat Unlocked: One Million Copies Sold! (and the much more concise infographic)
3DS, Vita and PS4 themes released!
Shovel Knight releases in Japan on June 30th! (Check out yachtclubgames.jp and @YachtClubJP for more!)